"I don't really look into a certain number. I just want to play as much as I can," Springer tells the Sun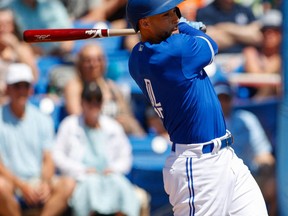 Article content
DUNEDIN. Fla. — It was a routine play in a low-stakes game — even lower than the Grapefruit League exhibitions that are now in the rear-view for the Blue Jays.
Article content
But George Springer was taking the intra-squad matchup last week rather seriously, racing down the first-base line to beat out an infield single. Smooth and powerful, there wasn't a hint of a hitch in his running form.
The minor league umpire was emphatic with his safe call and the speed and comfort that Springer moved caused a buzz among the Jays coaching staff which had crowded around the field at the team's player development complex in Dunedin.
"I actually didn't think I ran as fast as I did. I felt like I ran slow and they told me I ran fast so that's a good sign," Springer said in an interview on the final weekend of spring training. "I feel good. I just want to make sure that I'm being smart and I use my top speed whenever I need to.
Article content
"The goal is to play in as many games as I can and hopefully just be smarter."
There  was much to be optimistic about as Jays players and staff loaded on their charter on Tuesday to return to Toronto for the team's first true home opener since 2019.
The prospect of a healthy Springer for a large portion of the 162-game schedule, which begins with Friday's date with Marcus Semien and the Texas Rangers, is certainly high on the list.
It's not so much a question as a projection: How much would a healthy George Springer mean to the championship-minded 2022 Blue Jays?
In the 78 games he was limited to due to three separate stints on the injury list in 2021, Springer showed plenty of glimpses of what he can bring. He still hit 22 home runs, drove in 50 and had a .264 batting average.
Article content
But even during those sneak peaks at his prowess, Springer was rarely at anywhere near 100 per cent, which he hoped to correct with a strong off-season and measured, sensible spring training.
So how many games would constitute a successful season for Springer? As he enters his ninth big-league campaign, Springer is wise enough not to affix a number to it, but it's clear he's driven to be a meaningful contributor throughout the six months that he hopes will lead to a seventh — October.
"Just enough," Springer told the Toronto Sun when we asked him what a reasonable target would be. "A lot of people put an emphasis on games but there's 162 of them in 180 days, the travel, the schedule … it's not easy on the body.
"I don't really look into a certain number. I just want to play as much as I can."
Article content
Expecting a full 150-162 games might be a little much for the now 32-year-old former World Series MVP. But, assuming he can dodge the soft-tissue injuries that dogged him from Dunedin to Buffalo to Toronto his gruelling first year with the Jays, it's reasonable to peg that number somewhere around 140.
Safe to say, the team (and his teammates) would take that, considering that's precisely how many appearances Springer made in both 2017 and 2018, two of his more productive seasons. Obviously the Jays would prefer more than the 122 h he played for the Astros in 2019, his last full season in Houston.
Gausman ready to do his thing for the Blue Jays

Matt Chapman excited about Blue Jays
How much he plays depends on staying as healthy as possible, keeping the inevitable injury moments to the nagging variety. The work he's put in during the off season, plus a measured approach to spring training  — where he spent much of his time in minor league and intra-squad games — have been designed to help.
Article content
Seeing Springer up close for three weeks provided a window into the enthusiasm he brings to his new(ish) team. He clearly has a bond with the younger players and is a vocal leader on and off the field.
"It's up there, it's high," Springer said of the excitement level to get the season going. "I think for us, one of the most important things is to get to play at home again and doing it for 81 games and hopefully some playoff games.
"To have that stability to know we're going to be at home in Toronto is absolutely huge."
The veteran presence of Springer on the roster arguably becomes more profound, given the expectations on the team.  Fans and players alike are hungry to see the team, which is scheduled to play 30 games in its first 31 days.
Article content
"You always want to get off to a good start and never want to put yourself in a hole," Springer said. "But it's it's such a long season. And there's going to be ups there's going to be downs. There's going to be times where you lose five straight and times where you win  eight straight.
"Do you want a good start? Absolutely. Who wouldn't? But it's really how you finish."
It certainly won't hurt being back to the Rogers Centre, where a crowd of close to 50,000 is expected to greet them on Friday.
Springer remembers the noise full houses made when he was a visitor with the Astros in 2015 and he was massively impressed with the din from a reduced house this past December. And most of all, he remembers the 21-9 record the Jays had in the 30 games they played at the downtown dome.
"The 30,000 that were there at the end felt and sounded like the whole stadium," Springer said. "It's a great atmosphere and we can't wait to be part of it again."