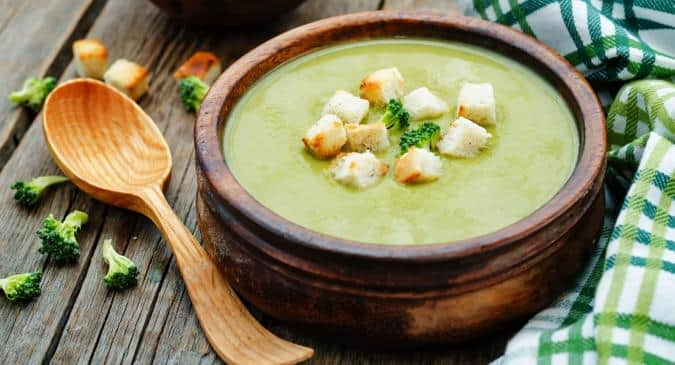 Summer is here, and the first thing that takes a hit, especially for the kids, is their appetite. Of course, the first instinct will be to force them to eat as a parent. But I have learnt that that doesn't always work, and it could backfire when it comes to creating lifelong healthy eating habits. So one of the things that we add to the meal plan in my house is cold soups in the summer. They're cold, so no one complains, and the kids can quickly slurp them up. I'm happy because I get veggies into their tummies with minimal fuss. Hence, today Chef Vivek Tamhane, Senior Executive Chef, BLVD Club Bangalore, is sharing three cold soup ideas that should be part of your family's meal plan this summer!
Gazpacho With An Indian Kuchumber Twist
Ingredients:
5 medium Tomatoes seeds removed
1 small cucumber, peeled and de-seeded
1 small Onion
1 small Red Bell Pepper roughly chopped (about 1 cup)
cup Olive Oil
cup Water, plus more as needed
cup + 1 Tbsp fresh lime juice, divided
1 medium-size fresh red chilli roughly chopped (about 2 Tablespoons)
2 medium garlic cloves
1 – 2 Bread slices roughly torn (about 1 cup)
Tsp Black Pepper
Tsp Cumin powder, divided
Tsp Coriander powder, divided
2 Tbsp fresh Cilantro/Coriander leaves
Tsp chilli powder
2 Tbsp Red Wine Vinegar
1 Tsp Garam Masala
Salt as per taste
Tsp Chaat Masala (optional)
cup Sev for garnish/ Crispy Noodles
Method:
Finely chop the tomatoes, cucumber, and onion. Keep 1/4 cup of each and put the remaining tomatoes, cucumber, and onion aside.
Wash the chopped onion under cold water for 5 seconds; drain well.
Cover and refrigerate the remaining onion, tomatoes, and cucumber in a small bowl.
Put the onion, tomatoes, cucumber, bell pepper, 1/4 cup lime juice, bread, olive oil, 1/4 cup water, and masalas in a blender. Process until smooth.
Adjust the seasoning and chill, until cold, for at least 1 hour.
Put the Kashmiri chilli powder, chaat masala (if using), remaining lime juice, cumin powder, coriander leaves and powder in the bowl with the reserved vegetables. Mix well and season with salt.
Put the gazpacho in a bowl. If it has thickened, please thin with water to get the desired consistency season with additional salt and black pepper to taste.
Top with the vegetable mixture, coriander leaves and sev or crisp noodles.
Spicy Avocado-Cucumber Soup
Ingredients:
2 Cucumbers peeled and chopped, deseeded
2 Avocados chopped
2 Tsp Thai Green Curry paste
2 Tsp Sugar
2 Tsp finely grated Lemon Zest
1 -2 Jalapeno/fresh Red Chilli chopped
One unsweetened Coconut Milk
3 Tbsp fresh Lime Juice
Salt
1/2 cup Coconut Flakes
Coriander sprigs for garnish
3 1/2 cups of Water
Method:
Puree the cucumbers in a blender or processor until smooth.
Add the avocados, sugar, lime zest, curry paste and jalapeno/green chilli. Process until blended.
Pour in the water, coconut milk and lime juice and blend again.
Put the soup in a bowl and salt as per taste.
Refrigerate it for 15 minutes in the fridge.
Toast the coconut flakes over low heat until lightly browned, and let them cool.
Top the soup with the toasted coconut flakes and coriander.
Holodeck (Russian Beets Soup)
Ingredients:
3 large red Beets
8 cups Water
1 cup Buttermilk
1 medium Onion
4 Cucumbers
Sea salt to taste
1 tsp Sugar
1 bunch Dill/ Suva
4-6 boiled Eggs (optional)
Method:
Boil beets, drain and let them cool. 'We recommend 35-40 minutes at least. (tip- add a Tbsp of sugar for extra sweetness).
Boil 8 cups of water and let it cool.
Mix the water with the buttermilk.
Add the grated beets to the pot with the water/buttermilk mixture.
Add the salt and sugar as per your taste, starting with 1 Tbsp salt.
Mix in the onions, dill and diced cucumbers to the pot with the rest of the mixture.
Place the soup in the fridge to let it cool completely.
Serve with the boiled eggs if you want.
Total Wellness is now just a click away.
Follow us on